Reinterpreting Ribera del Duero
Reaching new heights in search of authentic elaborations; wines that reflect a genuine terroir, at an altitude of over a thousand meters, in a land of exceptionally rich mineral soils where risk is a constant but which yields exceptional and exciting grapes.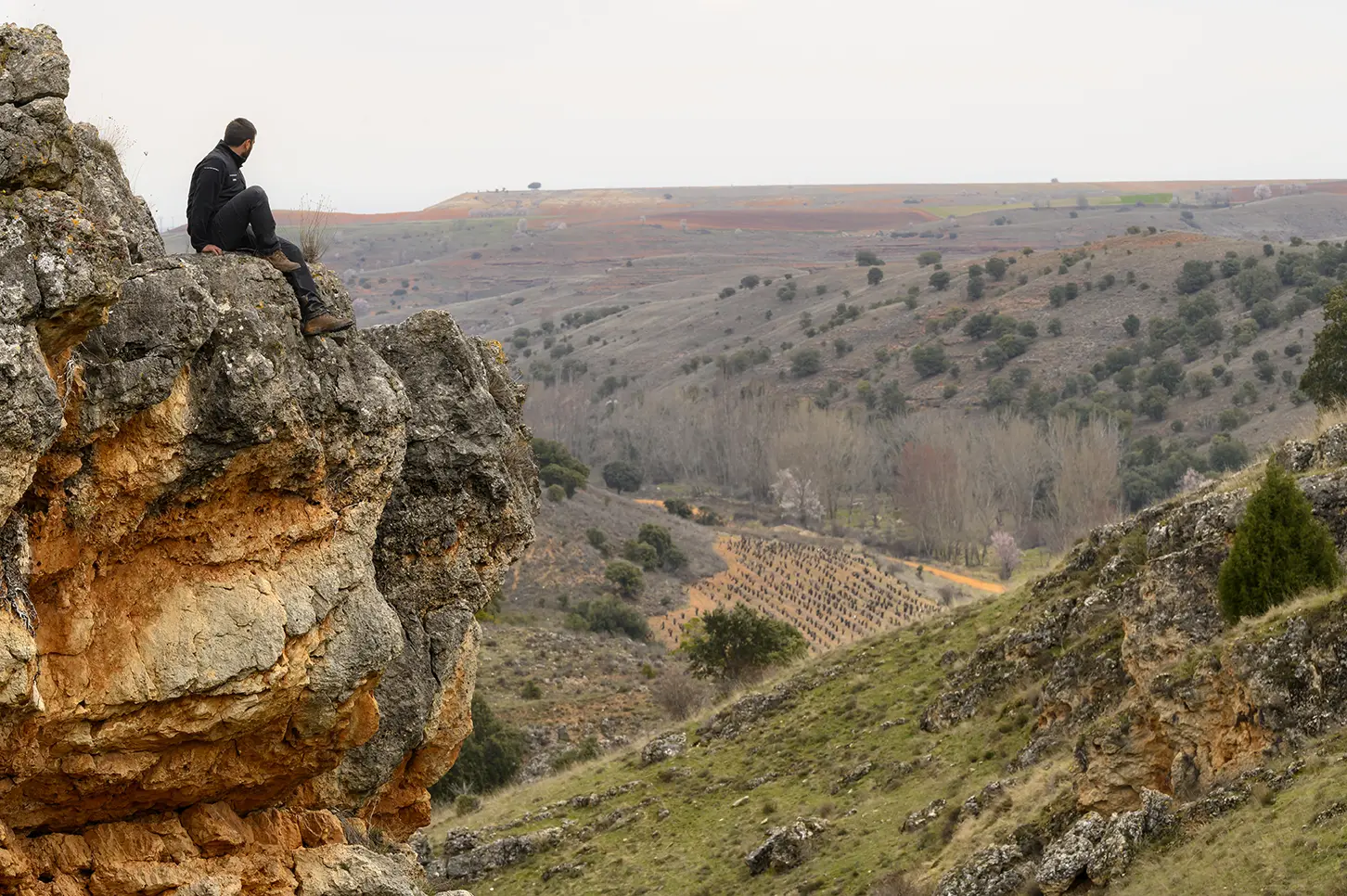 Milsetentayseis
The moor in Fuentenebro is dotted with valleys, hills, canyons and hollows. The different exposures together with the extraordinary mineral richness of its soils, the climate and the different varieties, combine to create a unique landscape in the Ribera del Duero. The remains of the old mining exploitations coexist in Fuentenebro with the winemaking activity. Feldspar, quartz and mica give a unique character to these vineyards.
In Milsetentayseis they work with centenary vines that are the source of an essential historical genetic material to develop a comprehensive recovery project. Historically, Fuentenebro has been a place of frontier and transit, so in its vineyards we find the heritage of an infinity of varietals that motivated Milsetentayseis to carry out an integral identification and recovery project. Thus, a total of 26 varieties have been counted only in a first selection and in only 6 plots.
Mineral richness
The red clay is the protagonist in the landscape of the Fuentenebro vineyard. These soils are poor in nutrients that force the vines to give the best of themselves. The remains of the old mining operations coexist in Fuentenebro with the winemaking activity. Feldspar, quartz and mica give a unique character to these vineyards. Their heterogeneity makes it possible to obtain an incredibly diverse raw material.
At around 1,000 meters above sea level, viticulture becomes high-altitude viticulture. We explore one of the areas with the greatest potential in Ribera del Duero, where the climate is the most extreme. These limit conditions imply a greater risk, but without this risk we would not obtain an excellent product.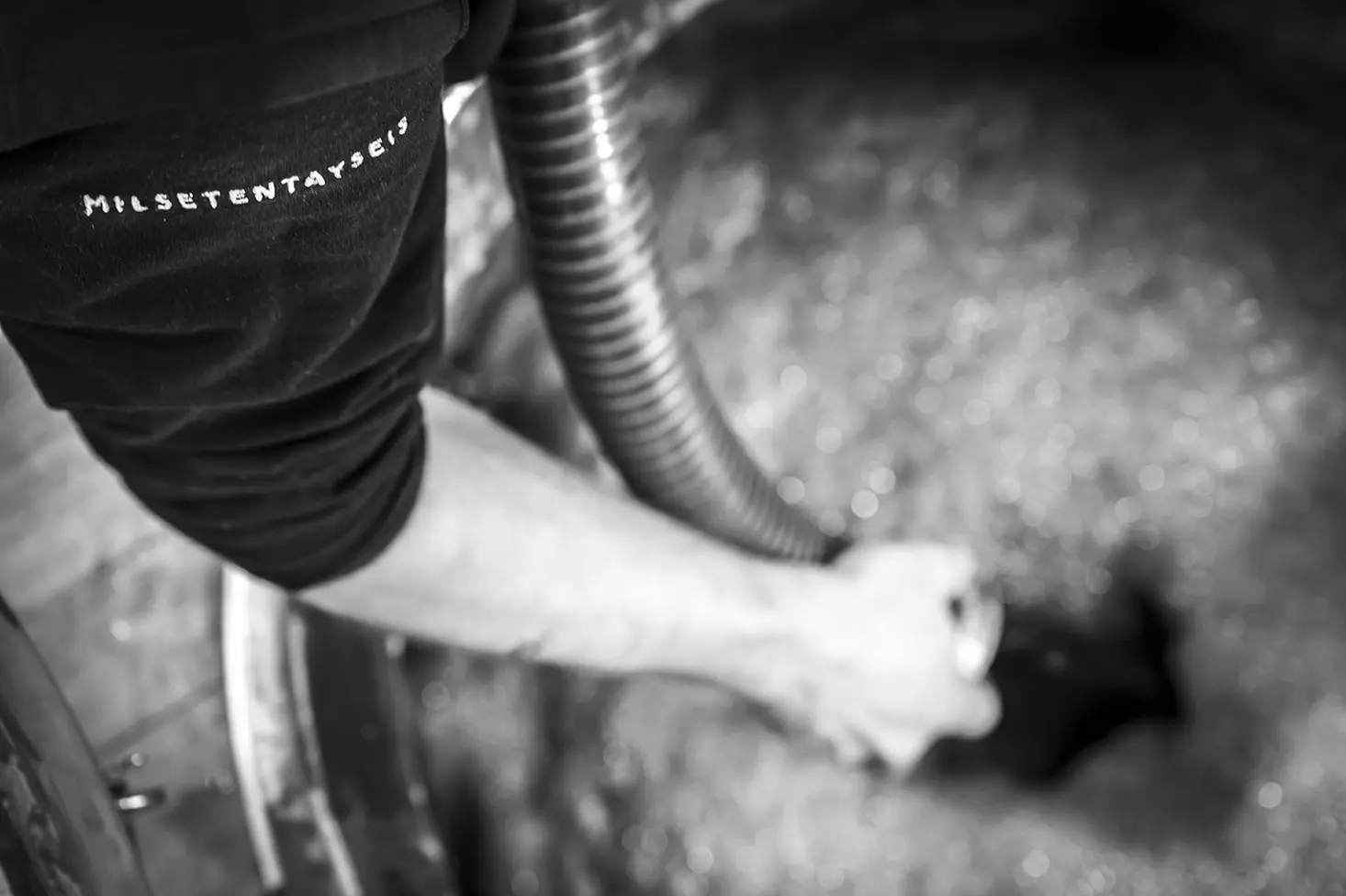 Milsetentayseis winemaking
All the grapes are harvested by hand and an exhaustive selection of the raw material is carried out with a triple selection. The grapes are harvested in small boxes of 12 kg in a process in which detail and attention to each grape is a priority. The elaborations seek to respect and express the terroir in a natural and sustainable way.
At Milsetentayseis, the origin and plot from which the raw material comes from is given a leading role. Each type of soil provides certain peculiarities and these grapes must be vinified in order to obtain the best of them according to these characteristics. For this purpose, there are different formats for vinification: 600-liter microvinifiers, small wooden vats, concrete and stainless steel tanks, icosahedrons (diamond) and even clay amphorae.
The wines of
Milsetentayseis
Milsetentayseis La Peña
Milsetentayseis La Peña is a wine with a strong identity of its own. Old Fuentenebro vineyard where different ancestral varieties coexist. Clay-loam soils with fragments of rocks formed by quartz, fesldespato and mica. The small production of La Peña 2021 represents in a pure and honest way its origin. La Peña is the recovery of an extraordinary plot.
Milsetentayseis Tinto
Milsetentayseis Tinto is Fuentenebro: a unique environment in La Ribera del Duero with a set of unique soils and altitude as protagonists. It is a wine with tension and a very marked character, designed to grow over time. The intensity in the mouth and freshness are characteristic notes of an elaboration that moves away from excesses to seek the elegance, subtlety and balance of the great wines of the world.
Biotype bank
Milsetentayseis is developing the planting of a polyclonal biotype bank of the different Fuentenebro varieties. This action is part of the LOWPHWINE project, which studies the different strategies to reduce the pH in wines. In addition, a bank of biotypes of different Fuentenebro tempranillo plants has been planted. The study aims to determine which plant material is the most suitable for future plantings.
The vineyard is worked organically. It observes and learns from the ecosystem to seek a natural balance. There are no phytosanitary products and synthetic chemicals, they are replaced by biological control methods, organic fertilizers and the study of environmental conditions for the correct application of treatments in viticulture tasks.